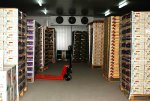 "Fruit-Impex" company is situated in Belarus in Pinsk. Our main activity is importing of fruits, vegetables, peat and wood to Belarus. At the moment we cooperate with more then 100 fruit companies from west Europe, Africa, Latin America and the list of our partners is still growing. Large amounts of fruits we get direct from producers of Africa, Latin America, Spain, Italy, Greece, Turkey, such as oranges, lemons, bananas, kiwis, pineapples, grapes, pears, apples, tomatoes, cucumbers etc. Our company is interested in expanding of our partners (suppliers and consumers).
At the moment we are developing the new way in the trade business – import of the dried fruits to Belarussian market.
Among the trade our company have own wood-producing equipment. The main product which we are producing is wooden pallet, which we export to EU countries.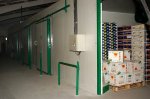 Also we have a park of trucks so we can offer you transport services to West Europe countries. When it is necessary we address for transport services to different transport companies.
High professionalism of our employees helps us to find a common language with our potential partners from different countries. We do not have language barriers. Custom formalities of cargos we do ourselves. All this permits us to do trade operations of any complexity very fast.
We hope that our future mutual cooperation will not disappoint you.