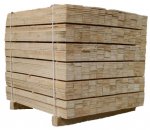 One of our activities is production and exporting of wood (pallet boards, wood boxes). Size of boards is variable. Hardwood is using for production (poplar, alder, birch, asp). We export this production to such Western Europe countries as France, Belgium, Spain.
We take orders for wood production all time.
Also we produce different kinds of semi-finished pallets of non-standart sizes. You can see an example of the pallet at the bottom of this page.